Many of our customers have been kind enough to share their set-ups.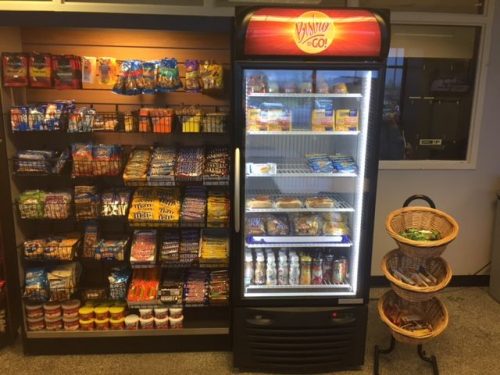 This is an actual vending operator comment. "Here are some pictures from last week's install. A big thanks to Wayne and his crew! I am almost certain that he would agree with me, regarding the décor. Not only does it look better, it's a lot less time consuming than the previous racks we have been using. This new and improved setup, also cost less than the previous kind, which I'm sure everyone (especially you, Bob, will appreciate!)."
VERY NICE "NANO MARKET"
We hope these pictures will give you some ideas.
If you have a photo of our products you would like to share, we will be happy to include it in our gallery. Please send pictures to SandraD@allstatemfg.com .  Let Sandra know if you would like us to link to your web site.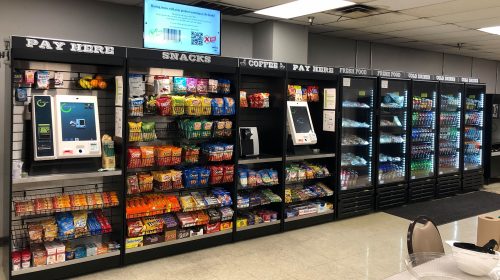 BURCH FOODS located in Sikeston Missouri just installed this GREAT LOOKING market. We think they did a fantastic job. Congratulations to Burch Foods.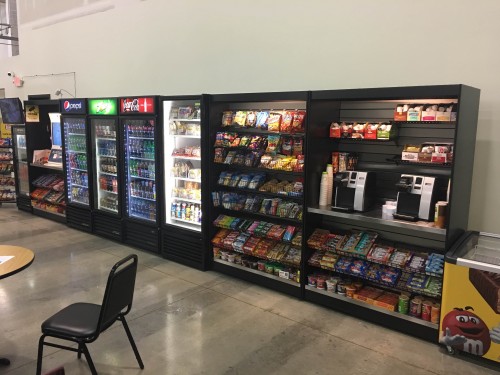 FOX CANTEEN (located in West-central Indiana) recently installed Micro Market. Three stands one for coffee/display, one for snack display, and one for the pay center/display. FOX calls their new stands "Bad Ass". The Stands are all black with stainless steel slats and we agree with Fox, they are very "Bad Ass". The guys at Fox helped in the development of the stands, no put together, no warped counter tops, and no falling apart when trying to change locations. Our customer is happy and so are we.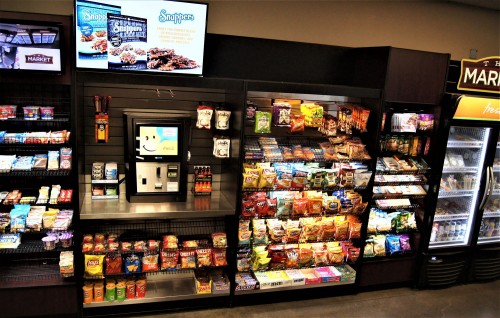 IMPERIAL COFFEE    Serving the Tulsa, Oklahoma area (see map of service area) Imperial is the premier coffee and vending service in the Southwest. Imperial began as a one- man coffee company serving Tulsa with annual sales of $30,000. Today, Imperial employs over 500 people serving Oklahoma, Arkansas and Texas with million's in sales annually. Tremendous growth in vending, vending machine services, catering, corporate dining, and coffee service demonstrate our commitment to provide unmatched service.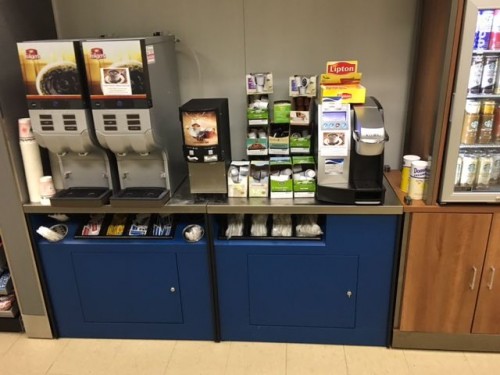 In a customer employee break-room.  Very nice looking. Two models of the OCS360 ordered with stainless steel tops.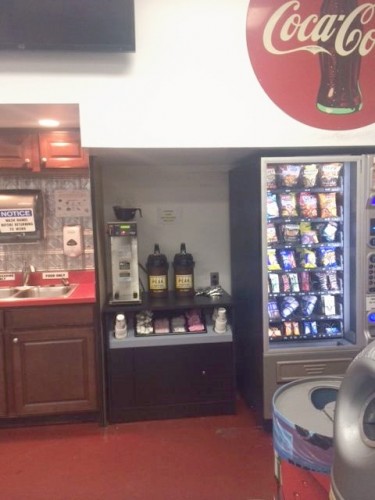 A COCA-COLA Break-room. Great fit.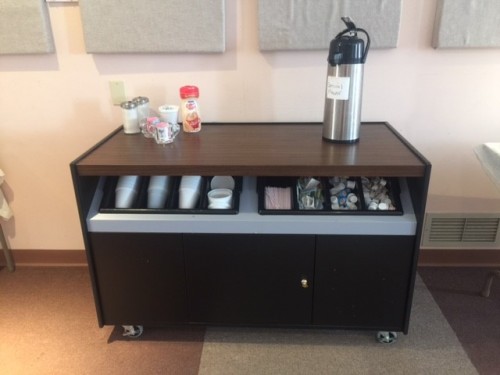 Very handsome OCS490 in a church. They chose to have  it on casters  with a laminated walnut top. Handsome  and Mobile.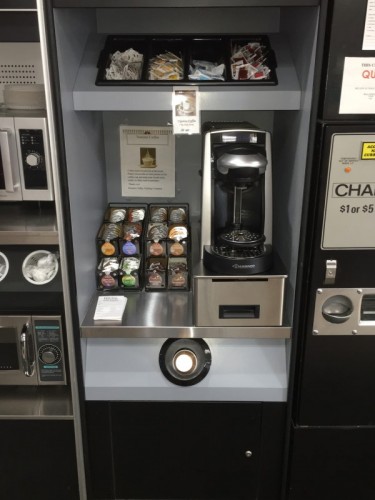 This OCS271-HTCD was such a good match for the K-cup  brewer. Installed by Maumee Valley Vending in Defiance, Ohio.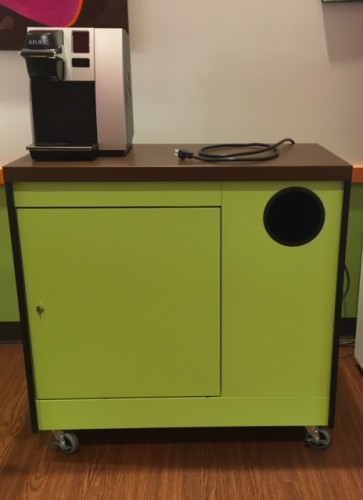 Custom color and top OCC36-WET for a yogurt shop. Electric plug-ins for pump and brewer, walnut vinyl clad steel top for looks and durability, and heavy duty casters for mobility. Plus custom color to match yogurt shop decor. Customer did a great job on the color match, notice the wall in the background.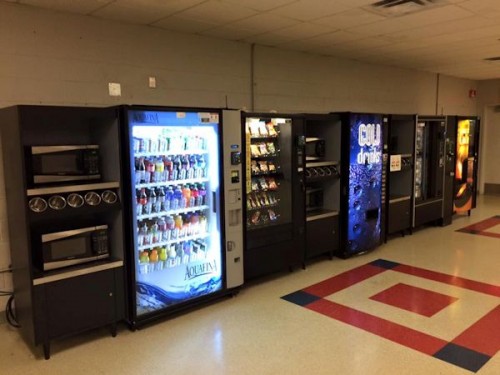 No waiting for microwaves to free up here. This new vending and lunch area is looking good with three AS272-5MT stands to accommodate up to 6 ovens plus condiments and utensils. Good job Hometown Suburban/ Tri-City Vending. 
This Three Square Market set-up utilizes both an AS272 and a OCS360 in this Micro Market.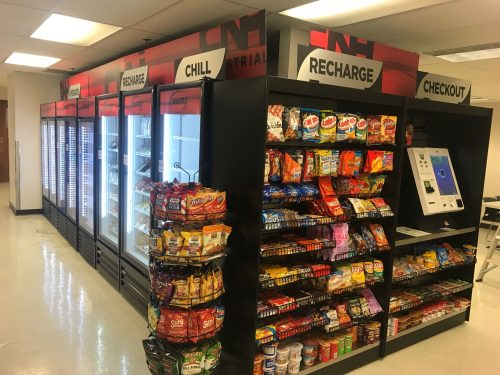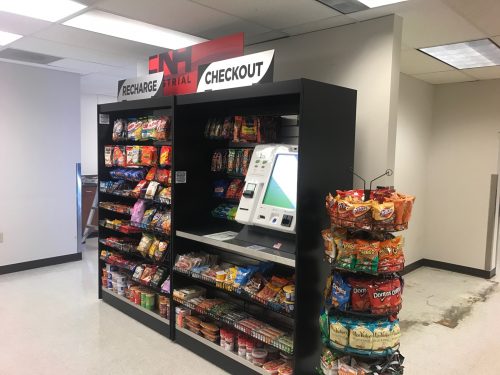 Great looking Micro Market
"Snacks Plus Vending" in Gwinner, North Dakota
Great use of space in this Market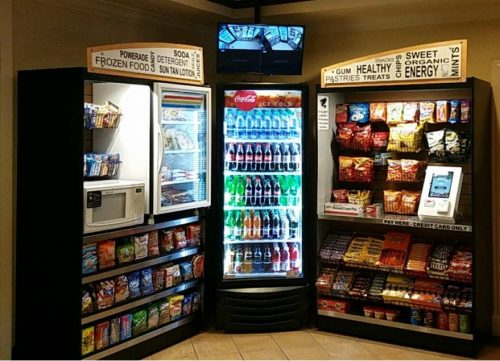 "East Coast Vending Solutions" of Conway, SC utilizes a small corner to provide an outstanding selection and easy payment. We think they deserve a pat on the back for this outstanding set-up. We are sure their client is very satisfied.